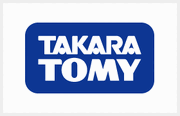 Tomy (known in Japan as Takara Tomy), is a Japanese toy company which was founded in 1924. The company has produced toys including Chuggington, Pokémon and other Nintendo franchises, baby toys, and board games.
In 1959, the company released the Plarail system in Japan, and the Tomy Trains system was released in the UK in 1987. Tomy recieved a license to produce Thomas and Friends toys, and the first Thomas themed items were released in 1992. Preschool toys such as the Thomas Big Loader and Push 'N' Go characters were also released in the following years. The company released Tomica World, which later became the Thomas Motor Road and Rail range, in the UK in 1998. Other Thomas toys the company made has included the Tomica Thomas range, and the Capsule Plarail Thomas series. In 2006, Tomy merged with falling company and rival, Takara, and became Takara Tomy, although that is only the merged company's name in Japan. In 2007, Tomy's US branch lost their Thomas license to HiT Toy Company. For Europe, Tomy released the Thomas TrackMaster range in 2008 where it was being funded by HiT Toy Company. In 2009, Mattel agreed with Tomy and HiT Entertainment to acquire the exclusive distribution rights to the Thomas TrackMaster range from 2010 along with their earning of the Thomas license. Tomy continued producing preschool Thomas toys until the end of 2010. In 2011, Tomy merged with RC2 and acquired Learning Curve Brands, so the company briefly earned the Thomas license again and produced the Thomas Wooden Railway range until 2013, where Mattel bought the rights.
Gallery
External Links
Ad blocker interference detected!
Wikia is a free-to-use site that makes money from advertising. We have a modified experience for viewers using ad blockers

Wikia is not accessible if you've made further modifications. Remove the custom ad blocker rule(s) and the page will load as expected.