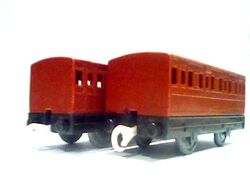 Red Coaches
The Branch Line Coaches are regular coaches. They are included with the Motor Road and Rail and Plarail versions of Oliver and Sir Handel, but they have also been remade in some colours in the TrackMaster ranges.
Ad blocker interference detected!
Wikia is a free-to-use site that makes money from advertising. We have a modified experience for viewers using ad blockers

Wikia is not accessible if you've made further modifications. Remove the custom ad blocker rule(s) and the page will load as expected.